Be sure to check out our promotions page for any current "coupons" before booking. You can enter the coupon codes from the promotions page at the time of booking, any relevant discount will automatically be deduct before payment.
You can find coupons on our promotions page.
Our budget cleanse can help to improve your heating systems ability function properly, and help to improve the comfort of your home, your families and your pets health.
With our Budget Cleanse service We will drain your system run an approved environmentally friendly cleaning agent through your system, radiators and boiler.We remove the cleaner with a cold flush before adding a protective inhibitor solution which helps to prevent corrosion of your pipework or damage caused to your heating system by harsh chemicals. We refill your system and balance the radiators to your requirements. This can in many cases be sufficient to create an improvement in how your system functions, especially if you require to minimise the cost of the works.
Budget Cleanse Price: £250.00 ( Maximum 8 radiators)
You can get an immediate comparison of our always genuinely low prices to other contractors using the Price Your Job Website, using the link below.
https://www.priceyourjob.co.uk/power-flushing-heating-system-cost/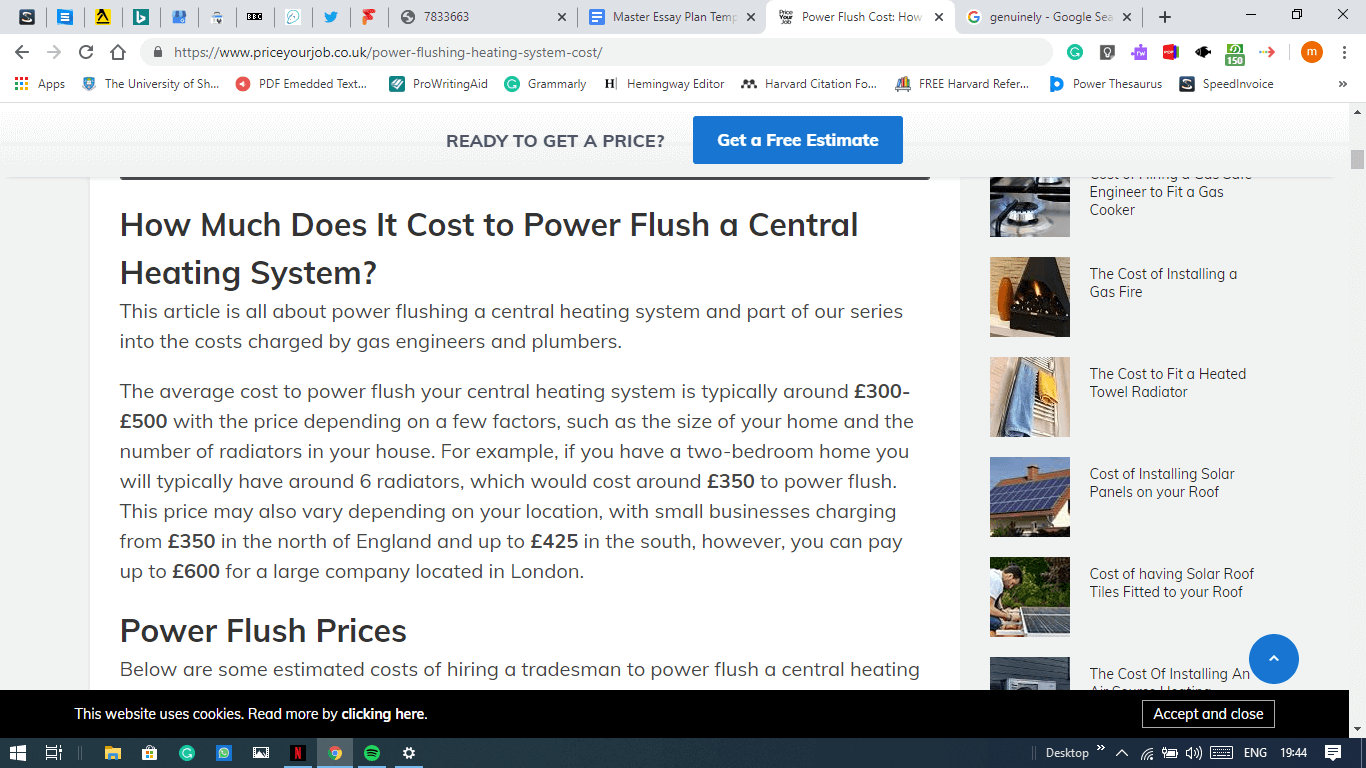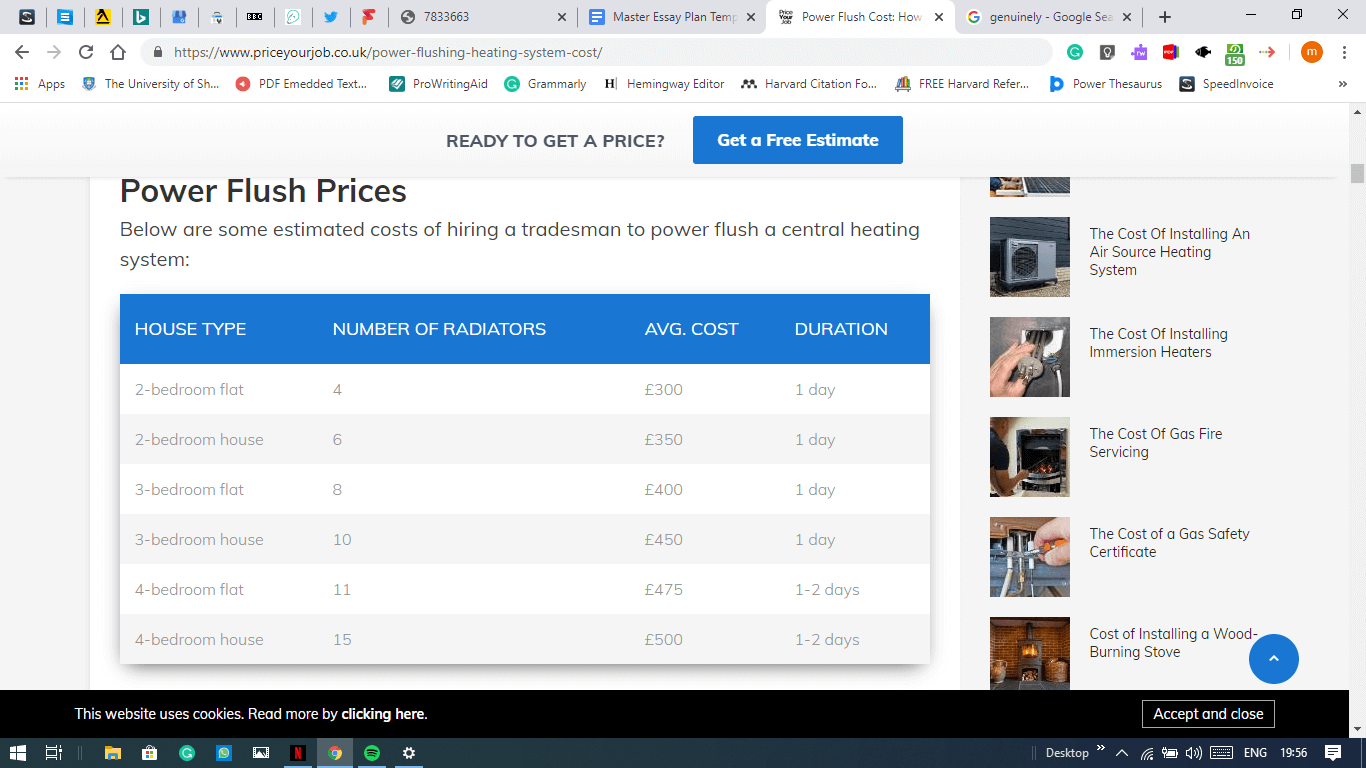 10 Great Reasons To Have Your Heating System Cleaned!
Cleanses The Central Heating System
Power flushing is a procedure which pumps cleaning chemicals and high amounts of forced water around your central heating system. This helps to remove any dust, debris or limescale that may be blocking the pipes, which will ensure that your heating system is properly cleaned and working properly again.
Removes Dust And Debris
High-pressured water and cleaning solvents are fed through a pump in quick succession to remove any dust and debris covering the pipework. This will resolve any issues such as blockages, cold spots or leaks that may have been caused through a build-up of dirt.
Increased Efficiency
By cleansing your central heating system, a power flush will improve the efficiency of your boiler and radiators, as it can help you increase water temperature and prevent regular breakdowns.
Prevents Blockages
Maintaining your heating system and having a power flush every 5 to 6 years will help to prevent blockages. This is due to the chemicals used, as they clear away any dust and debris and stay in the system to prevent reoccurring rust.
Prolongs The Lifespan Of The Heating System
Having a power flush can actually increase the lifespan of your system by 10 years, especially if you have one every 5 years or so. You should also make sure that you check and maintain your radiators and boilers regularly to avoid any issues and replacement costs.
Helps Your Home Heat Up Faster
As a power flush uses a high velocity of water and strong chemicals in your heating system, this will allow blockages to be removed and heat circulation will become more efficient. This preventative method will allow the water to flow much quicker and easier throughout the system, enabling your home to heat up a lot faster than it used to.
Reduced Utility Bills
Having your system power flushed allows it to become more energy-efficient, as the heat circulates better and temperature rise, therefore there is no need to use more energy. After a while, you may notice a drop in your utility bills, as you should be using your heating less and less.
Quieter Radiators And Boiler
Another advantage of having your central heating system power flushed is that it will make your boiler and radiators much quieter, as the pipes will be completely clear of all blockages which are the main cause of the noises coming from your heating system.
Higher Water Temperature
Blockages in your central heating system can cause water temperature levels to drop. A power flush is a great solution to this problem, as it increases water flow, and therefore increases the temperature allowing your boiler and radiators to reach high temperatures again.
More Reliable
Having your system power flushed regularly will ensure your heating system is more reliable, as you will experience fewer boiler breakdowns, which means you can save money on having your boiler replaced.
To place an order and book an appointment please visit the Dr Radiator Store. Or alternatively take a look at our FREE HEATING SYSTEM SURVEY service. or why not Order you Free D.I.Y Home Heating Testing Kit!
You may wish to discuss your option in a little more detail. If so why not book a Free Home Visit and to get a fully personalised quote.
Alternatively, our Superior Cleanse service offers a much enhanced option for those who might want to consider a more permanent solution to their problems.
Subject to budget, you may also wish to consider Filter Upgrade for your boiler as many older boilers are not fitted with filters and some new boilers have lesser filter models than are currently available on the market.
On completion your automatically be added to our 2 Year Service Schedule, where we will call you to remind you that your system requires further cleaning and to arrange a mutually convenient date and time to visit.
Prices for larger systems available on request.For a quick and friendly response, Contact Us today!
Or alternatively take a look at our "5 FREE Mini Steps To Improvement" Which will help you on your way to a full recovery!
You may also like to find out more about out FREE D.I.Y Home Testing Kit.
Or take a look at our FREE HEATING SYSTEM SURVEY service.
If you would like more information, for a quick and friendly response, Contact Us today using our contact form!
Do you have an emergency? If so, Click Here!
You can also visit our Current Promotions Page for current offers!
Or if you would like to speak to someone please call:

0770 8881886


0770 8881886