Our FREE Home Heating System Survey gets you started on the right path to extending the life of your Heating System and controlling those cost, whilst at the same time reducing any impact of unscheduled breakdowns. We will inspect your heating system from the water tanks in your loft down to the drain valve in your Kitchen.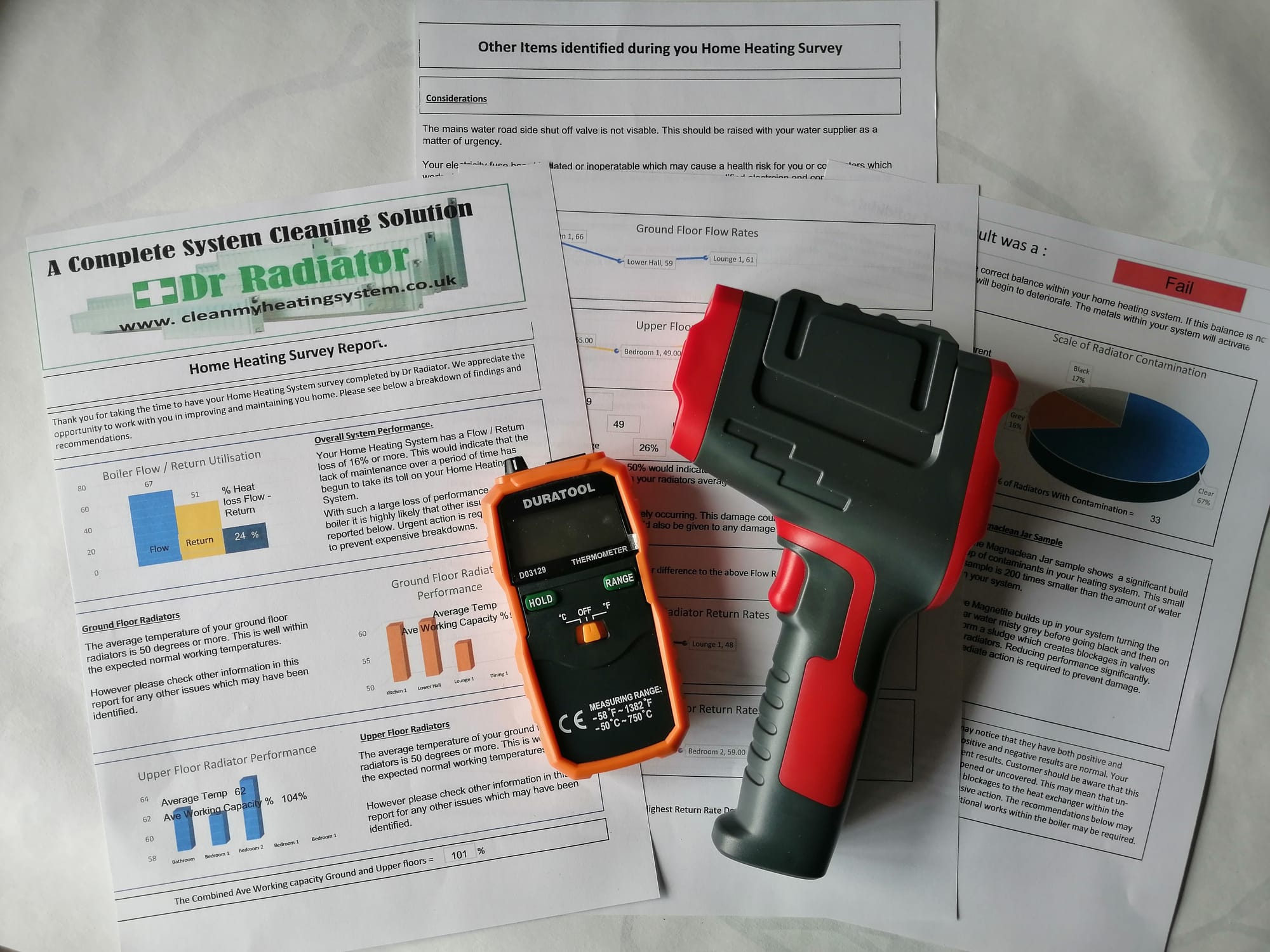 We will inspect more than 50 items which have the potential to cause issues within your Home Heating System. We will identify any immediate issues. Advise on any potential problems for the future, review your service schedule and make suggestion on how to cost effectively manage your boiler and the rest of your heating system. We will leave you with a no obligation fully detailed report on the condition of your heating system.
We will provide a full report including charts, graphs and statistics in full colour along with a list of items for your consideration. Also, we will discuss the report with you and agree a further list of recommendations which will ensure the health of your Home Heating System as well as protect the comfort of your family.
All recommended works will be quoted in detail and left for your consideration.
Having a FREE heating survey allows you to anticipate any problems which maybe coming your way. And importantly any costs implications that your heating system could have on your budgeting. Whilst planned maintenance for your system does come at a cost. It is often a cheaper more manageable solution than that of dealing with breakdowns which invariably come at the most inconvenient of times.
Take a closer look at a typical Heating Survey Report to see how comprehensive our FREE survey is!
You can book an appointment online! Book A Free Heating Survey Now! or why not Order you Free D.I.Y Home Heating Testing Kit!
Watch this short video for an insight to what happens to an un-maintained Home Heating System!
Or alternatively take a look at our "5 FREE Mini Steps To Improvement" Which will help you on your way to a full recovery!
You may also like to find out more about out FREE D.I.Y Home Testing Kit.
Or take a look at our FREE HEATING SYSTEM SURVEY service.
If you would like more information, for a quick and friendly response, Contact Us today using our contact form!
Do you have an emergency? If so, Click Here!
You can also visit our Current Promotions Page for current offers!
Or if you would like to speak to someone please call:

0770 8881886


0770 8881886